Saturday was the second and final day of our Young Men's Conference. Thank you to all of you who were praying about this. We had a great turn out (over 30 guys), and I believe that these young men were encouraged and God was glorified.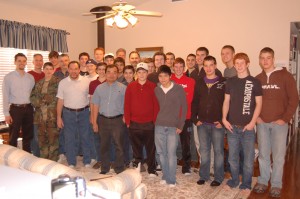 Young Men's Conference - February 2010
Our theme was II Timothy 2. The conference consisted of four sessions, each deriving it's subject from a verse in II Timothy 2. (see topical overview below) All four sessions were recorded on video, and Jonathan Steele is putting them onto a DVD.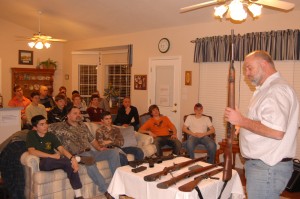 Bill Bell gives a demonstration on tactical firearms.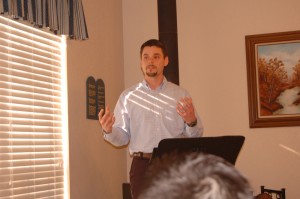 Teaching from II Timothy 2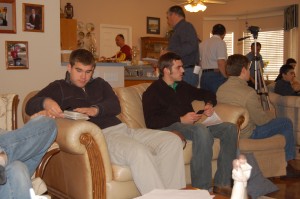 Attendees had fill-in-the-blank handouts that went along with the session topics.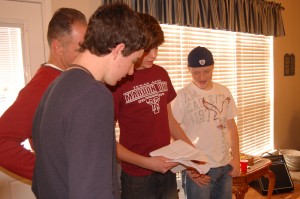 Singing hymns between sessions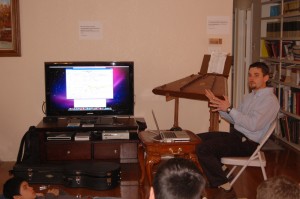 The last session included an onscreen demonstration on how to study the Bible using SwordSearcher Bible Software.
The following is a topical overview of the conference:
SESSION 1 - Chosen to be Soldiers
"Thou therefore endure hardness, as a good soldier of Jesus Christ." 2 Timothy 2:3
On Tactical Weaponry
About YOU
Whose side are you on?
The Essence of the Gospel
The Bottom Line: Righteousness
Believing vs. Asking (Rom. 4)
Professing Christ
SESSION 2 - Depart from Iniquity
"Nevertheless the foundation of God standeth sure, having this seal, The Lord knoweth them that are his. And, Let every one that nameth the name of Christ depart from iniquity." 2 Timothy 2:19
Addiction
Reformation or Destruction?
Romans 6: The Free Man's Manifesto
Understanding Physical Drives
Freedom is not related to your experience
Something to know
Something to do
A Warning
SESSION 3 - Avoid Entanglement
"No man that warreth entangleth himself with the affairs of this life; that he may please him who hath chosen him to be a soldier." 2 Timothy 2:4
What are Entanglements?
Learn to Treasure a Tender Conscience
A Call to Sobriety
Strive to be Crowned (II Timothy 2:5)
Remember that Christ is Conforming You
What if I fall?
SESSION 4 - A Workman not Ashamed
"Study to shew thyself approved unto God, a workman that needeth not to be ashamed, rightly dividing the word of truth." 2 Timothy 2:15
The Bible is your Final Authority
You need to search the Scriptures
The Key to Understanding the Meaning of Scripture
---
Like what you're reading?
Let's keep in touch!