Since our last post (which, yes, has been entirely too long) much has happened. So much, in fact, that I'm not quite sure where to begin. I suppose I'll start with the news that it most exciting:
Kelsie and I are expecting our third child!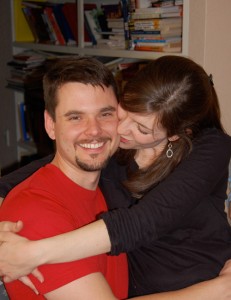 The happy couple. Sorry, don't have a picture of Junior yet, so this'll have to do for now. :)
We only found out about the pregnancy a couple of weeks ago, so we still don't have a lot of details. The due date should fall in November more or less. We'll post more info as we get it. In the meantime, please pray for our return trip April 20 to Ukraine. Kels is already experiencing the effects of morning sickness, and we're praying that she will feel well during the flight.
Young Men's Conference
Some of you may recall from a previous post that I taught a two-day conference for young men here in Fort Worth, TX. My brother Jonathan is working on making that available on DVD and is nearly ready to begin distribution. Not long after that original conference, I visited No Greater Joy and was asked to do a condensed version of the conference up there. This was recorded on video and is now available for viewing through Vimeo. If you like, you can view all three of these sessions right here on our blog. Just click the Men's Conference link on the right-hand menu.
Travel and Reporting
God has recently opened several doors for us to share our work in Ukraine in various churches. (That's one of my excuses for not posting more often!) As we noted in our last post, we were able to speak at a church in Alabama, then to several groups in Tennessee. We also had the opportunity to speak at a missions conference at South Side Baptist Church in Weatherford, TX this past Sunday, and I'll be traveling to Austin next week to speak to a group there. It's been great to be able to share our vision with believers here, and we are sincerely grateful to everyone who is praying for us and supporting us. Exciting days lie ahead, and we can't wait to get back to the field and continue the work there.
CMO Plans
We already have a few guys planning to come to CMO this year. If you're thinking about coming, you need to send in your application ASAP. The registration deadline is April 15th. Don't put it off! If you have questions, check our web site or send us an e-mail. Don't miss this exciting opportunity to help advance the Kingdom of God!
---
Like what you're reading?
Let's keep in touch!